A little practice goes a long way in learning a new language! At the LiLi Centre, we have a number of conversation groups to help you practice your conversational German, as well as make new friends! And with our large international community, we frequently host conversation groups in other languages too!
German Conversation Groups
Our German conversation groups are run weekly. Check our Calendar for the scheduled classes.
Please note that they are not teaching German but facilitating the group. You should be able and willing to understand and contribute to the conversation (on your level). Don't be shy…practice makes perfect!
German Intensive Groups (A2 +/-)
We are now offering 3 times weekly intensive German classes to improve your spoken German as well as upgrading your grammar knowledge.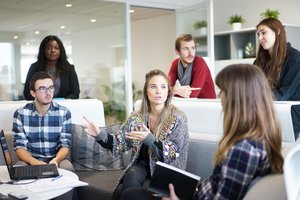 Spanish Conversation Group
Our Spanish conversation group returns to the LiLi Centre every Thursday at 11:00 so come by to improve your language skills. The classes are free so don't be shy to practise in a nice and friendly environment.
Interested in running a class?
We are always interested in hosting new language courses and conversation groups at the Lili Centre. Perhaps you would like to share your knowledge of the local dialect and help others get to grips with Schweizerdeutsch? If you are interested in running a class please contact us at events@lilicentre.ch for more information.