WORKSHOPS & SELF-HELP GROUPS
We run regular workshops at the Lili Centre to allow people to share their skills and experience with others. Below are some examples of the workshops and self-help groups that are hosted on a regular basis.
Mental Health Initiative
This public health initiative is forged with the intent to increase access and equal affordability to culturally competent and culturally sensitive care. Address present gaps in mental health that contribute to public health risks to creatively mitigate this risk. Foster collaboration and integration of foreign practitioners with Swiss practitioners to strengthen the offering and collective knowledge of the region. Challenge stigma with increased visibility and normalization of public exposure to mental health topics, narratives and public education.
Entrepreneurs In Switzerland
Is a self-help group which meets at the Lili Centre to swap ideas and learn from each other. As a Group they learn different entrepreneurial mechanisms and discuss various topics that could help you to move forward in Switzerland with your career. It doesn't matter if you have a job or are searching for a job, changing your career path, or simply thinking about what you would love to do!
JIFF Workshop
JIFF (Job Integration for Foreigners) is a non profit organisation aimed at helping English speaking foreigners find the tools they need to work in and around the Lucerne region. They hold regular information coffee mornings at the Lili Centre as well as workshops designed to help improve your chances of finding a job.

Their main coordinator is an international resident who has lived in the area for many years and has substantial knowledge of the local business world.
Information Coffee Morning
Every Wednesday morning we host an information coffee morning at the Lili Centre. Do you have questions about living in the canton of Lucerne? Or are you just looking for someone who knows what it feels like to be an expat? In all cases we are here for you with insider knowledge! Our team members will be available to answer your questions over a cup of coffee or tea. We look forward to seeing you there!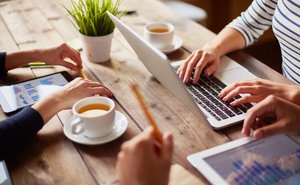 Interested in running a workshop or starting a self-help group?
We encourage our members to share their knowledge with others in the community in order to integrate faster and make the most of their time here. If you would like to host a group or workshop at the Lili Centre contact us at events@lilicentre.ch for more information.